A few weeks ago, I clicked on an ad on Facebook about getting some samples of reeds. I'm always up for new reeds, and I'm always up for trying something new. I entered my address and info, and promptly forgot about it, until a few days ago, when I got a package in the mail. This company, D'Addario Woodwinds, sent me six reeds to try (three each of two types)! They are called Reserve by D'Addario. I'll be honest, I felt really cool and exclusive getting to try these reeds!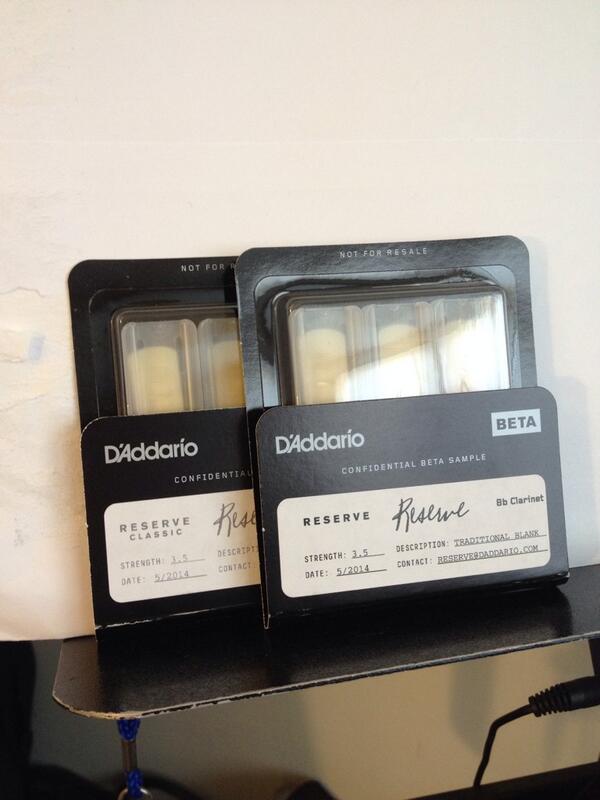 I started breaking them in just like I normally do. First impression: very consistent. In fact, this seems to be one of the major selling points of these reeds. I really like that – there is such a wide variety of strengths and responses in a box of Vandorens that it was almost strange to have each reed basically play the same. I also noticed that they come pretty well balanced already (unlike Vandorens!), I've had to do minimal balancing work, especially compared to when I'm breaking in my normal V-12s. I think the 3.5 strength was a little soft for my setup, but I just sanded down the tips a little, and kept them high on the mp. And after a couple days of playing them, they seem to be stiffening up a bit. So far I'm favoring the "Traditional" over the "Thick Blank", but its still early. We'll see how they feel in a month.
So far, I'm impressed with these reeds. Like I said, its still early in the reed-breaking in process, but based on what I've experienced so far, I would most definitely recommend these reeds. I'll post a "part two" in a couple months after I've really used them, and I can more confidently give my recommendation.